Fish sense the presence of a line!
Then, invisible colored lines are the best!
Duel has come out with a leader that is invisible to fish! Its name is "Pink Fluoro Invisible to Fish"!
Duel has released a pink fluorocarbon leader that is invisible to fish, thanks to a unique formula. This new fluorocarbon leader will lead to better fishing results. How does it perform?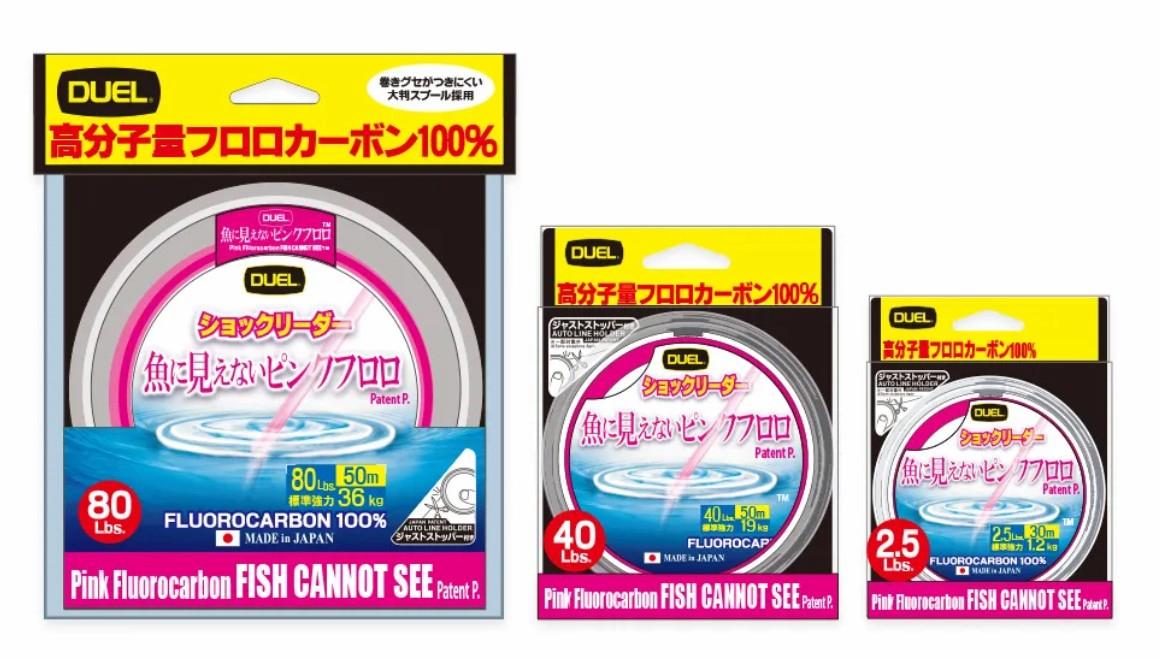 Pink-colored line
Duel has released a new shock leader and boat leader named "Pink Fluorocarbon Leader Invisible to Fish" in July 2023. As the name suggests, it is a pink-colored leader and Harris. Up to now, pink leaders have been on the market. However, the pink leader was also said to be "hard to be seen by fish. However, the "Pink Fluorine Invisible to Fish" released by Duel this time has been specially blended based on scientific evidence and extensive verification to make it more invisible to fish.
There are two types of lines used for leader material in lure fishing: fluorocarbon and nylon lines. To briefly explain each type of line, nylon line is more "flexible" and stretchy than fluorocarbon, and it floats easily in the water, reflecting light and shining. Fluorocarbon line, on the other hand, is stiffer and less stretchy than nylon, which makes it more sensitive, more abrasion resistant, sinks faster, and has properties that blend in better than nylon in the water. By the human eye, fluorocarbon line is harder to see in the water than nylon. For this reason, fluorocarbon line is generally used for jigging and sinking fishing. However, research has shown that fish sense the presence of line even if it is difficult to see. Therefore, Duel has created fluorocarbon that fish cannot see, based on scientific evidence and experiments.
What Scientific Research Has Revealed
In recent years, the investigation of the absorption maximum wavelengths of photoreceptor cells using microspectrophotometry has become popular, and many kinds of analyses have been conducted and achieved results in measurements using fish retinas. The visible light (visible light) contained in sunlight is divided into seven colors (red, orange, yellow, green, blue, indigo, and violet), and of the 54 species of saltwater fish studied, only a few were sensitive to red (600 nm and above), and most fish species were only sensitive to blue and green (440 to 570 nm). Most of the fish species were found to be sensitive only to blue and green (440-570nm).
A trick that fish can't see
As a result of the above scientific research, Duel created a line with a specially formulated "color filter effect" that cuts off wavelengths that fish can detect.
Fish perceive the mixture of light transmitted through the fishing line and reflected light as color and light/darkness. Considering that fish also perceive the line as a silhouette, it is important to combine the color filter effect with transparency".
Therefore, compared to ordinary pink line, this "pink fluoro invisible to fish" cuts a wider range of wavelengths that fish perceive, so that although it appears pink to humans, it is invisible to fish due to its unique color filter effect.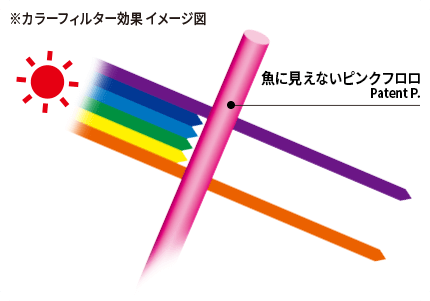 The video is here!
A Wide Range of Lineups
Now, this leader lineup consists of three types: shock leaders, boat lures, and rock lures. Shock leaders are available in 2lb-10lb 30m reels, 20lb-100lb 50m reels, and 130lb-300lb 30m reels. The lineup of ship's leader is indicated by the number of the line; No. 2 (8lb) to No. 16 (55lb) are available in 100m windings, and No. 18 (60lb) to No. 40 (120lb) are available in 50m windings. Isoharis is available in 50m spools from No. 0.8 to No. 5. The wide range of lineups supports from light to big game. It is especially useful for slack fish and high-pressure situations. Why not try its effectiveness?