Aim for the big sea bream!
Have fun with the RED BACK series Deep Tai Mule of Genkai Sea
Tyraba is one of the offshore lures that is easy to get started with. It is a high-performance tackle that allows you to experience the depth more and enjoy it. Major Craft's Tairaba brand "Red Back Series" has performance that can be convinced from beginners to experts. With the new Redback series in hand, the crew of Major Craft challenged the first-class field Genkai Sea of Tyraba.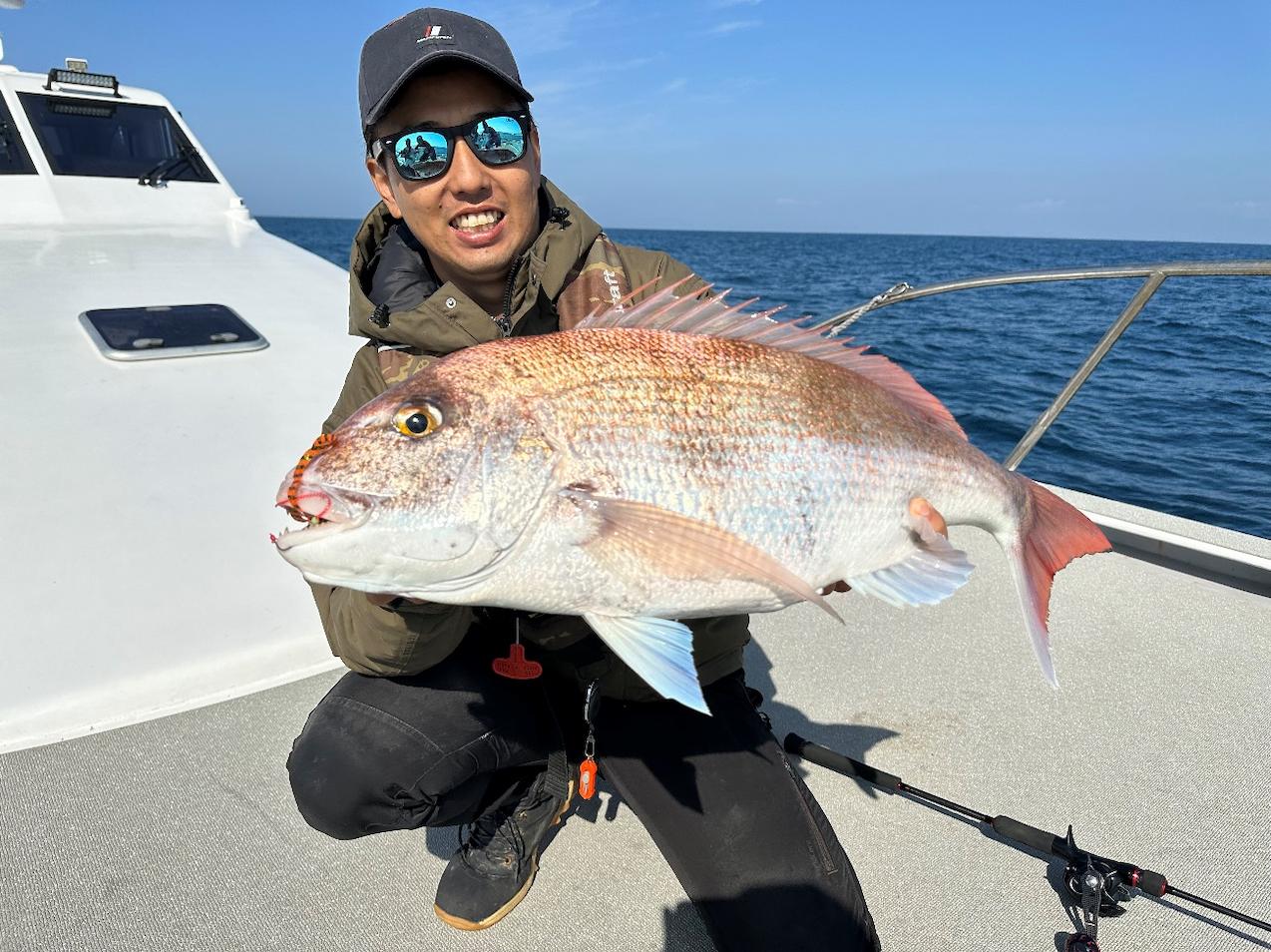 In search of large sea bream, go to the first class red sea bream field
"I got it, I got it, I got on it." After a steady bite, I hooked the fish at the same time as it turned over, and then pulled the rod to bend it. In addition, a tie rubber game that entertains anglers by showing a pull that hits the tip during the fight. There are many places in Japan where Tai Mule is thriving. In such a place, Satoshi Kawakami of Major Craft, Tomokazu Ibuki of staff, Momo-chan and Mob-san of support anglers challenged. The aim is a large sea bream in the deep range. The plan is to bring in a new size Tyraba head Kaenomi, and a rod redback 5G series that pursues performance in line with the ever-evolving Tyraba scene, and enjoy it to the fullest. This time, I was taken care of by the Genkai Sea "Nara Maru", which has a ship in Fukuoka City. It's a comfortable large boat, and it's a boat that will guide you through jigging, casting, and fishing in the Genkai Sea, including this time's Tai Mule.
Kaenomi's new size for deep range
The Kaenomi of the Tyraba head used in the main this time is a replacement head of Tainomi that drains water well and is comfortable to wind. In Major Craft, in addition to the model with a set of ties called Tainomi, Tainomi TG, and Tainomi TG hybrid, there are replacement heads for Kaenomi, Kaenomi TG, and Kaenomi TG hybrid. Nomi was up to 160g, and the TG & TG hybrid model was up to 100g. Therefore, Kaenomi introduced 200g and 250g, which are suitable for capturing deep areas. It can be said that it is a necessary item to capture the deep in the Genkai Sea, where boats are often flowed by dōTERRA sinking.
The departing ship gave the start signal at a depth of 100m. Immediately, the members dropped Tyraba with 200g and 250g of Kaenomi as the head. Since the boat is swept by doTERRA, the line will go diagonally even with a heavy Kaenomi. By pulling diagonally, it can be said that it can appeal to a wider range of people. Of course, if it is a light tie mule, it will come out more diagonally, but if it goes out too diagonally with a light tie mule, it will be difficult to see the bottom. A 45 degree angle is best. In order to maintain such an angle, a head of 200g or 250g is required. Also, by using this size, it can be said that it is possible to put a sea bream at the point at a good tempo.
Mr. Kawakami wears a 200g green bag made from tungsten Redback Kaenomi. The tie is a red back, and he chose a custom tie with a strong wave of golden orange. For the hook, select Redback's custom hook big sea bream. I chose a model with a large No. 12 hook because I was aiming for a big sea bream.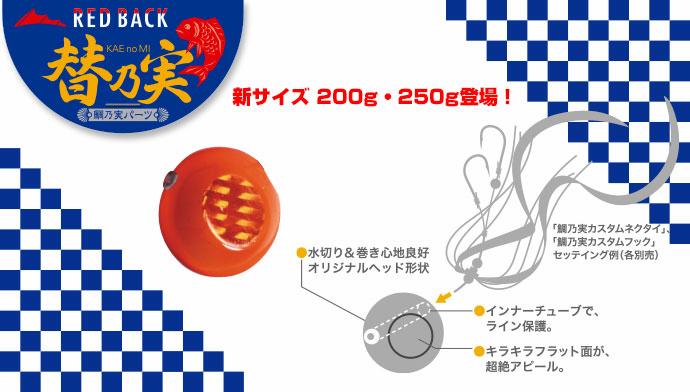 Redback Kaenomi
Click here for product information
High-performance rod Redback 5G that allows you to enjoy Tyraba games more
On this day, the members used Rod Redback 5G RB5-B610ML/S. It is a model up to Max 200g.
"It's a soft model for the head used, but I chose it because it's good to ride the red sea bream, and it can be bent firmly to reduce breakage. If you want to capture the deep range of the Genkai Sea, Redback 5G RB5. -B610M/S would be the easiest to use, but today the wind is calm and the current of the ship is gentle, so the ML model is also sufficient.If you bring in two power rods, ML and M, it will be sufficient. We can do it." (Kawakami)
The main line is Bullet Blade Cloth No. 1. Although size 0.8 can be handled, it is said that size 1 was selected so that when a large sea bream comes, it can be exchanged with more peace of mind. The leader is Dangan Blade Fluoroshock Leader No. 4. The leader is a little thin, but I selected it with a focus on eating.
"Redback 5G bends beautifully and gently when hit, so even a thin leader can handle it. It absorbs the pull of the fish firmly." (Kawakami)
By the way, the rod Redback 5G series used this time uses Toray Trading Card 🄬T1100G as the main blank material. This material is also used in the aerospace field, and it is a carbon that achieves both high strength and high elastic modulus, which had been considered difficult until then, through a firing technology that precisely controls the fiber structure at the nano level. It is a material that can be used to make rods that are lightweight, highly sensitive, have excellent torsional rigidity and breaking strength.
Furthermore, this is combined with a high-sensitivity solid tip, and the R360 manufacturing method, which is the manufacturing method of Major Craft, is adopted. R360 arranges the direction of the carbon fiber in the straight (vertical), fade (right diagonal), draw (left diagonal), and side (horizontal) directions. It consists of carbon sheets in the axial direction. As a result, it is a technology that realizes a lightweight blank that has power and tension and can respond to 360-degree force. With these, you can see slight changes in the water, and you can see how the red sea bream is approaching and how it is pecking. About. It is said that it is a rod that you can enjoy the Tyraba game more.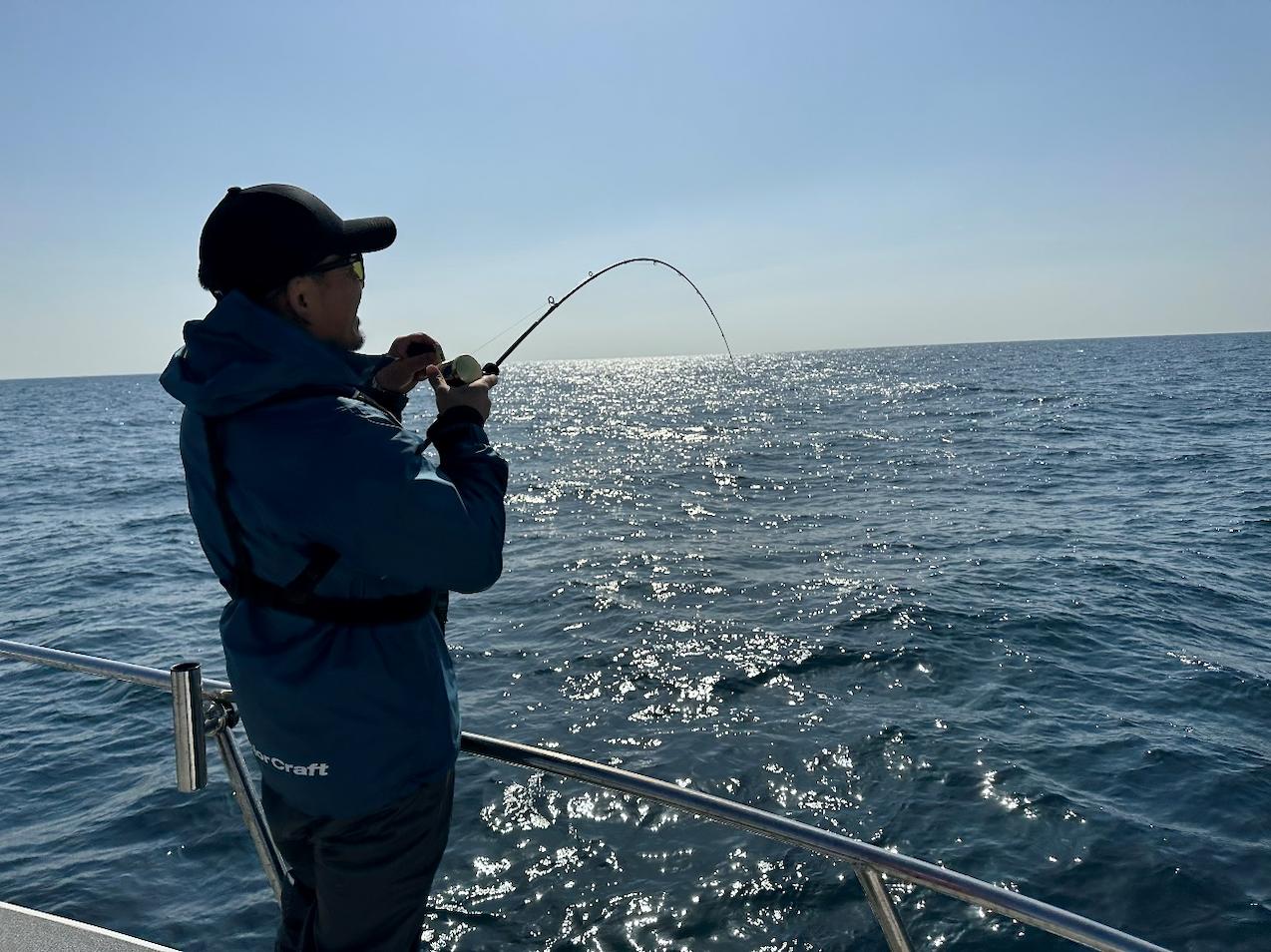 Click here for product information
One hit after another, you can feel the richness of the Genkai Sea and the effect of Kaenomi!
"What's important is the winding speed. It's like changing the head color of the tie mule, the color of the necktie, and the winding speed while looking for a pattern that hits." (Kawakami)
As soon as Mr. Kawakami was explaining the actual fishing, the Atari came.
"After all, it's fun to bend the rod firmly and catch it. The Redback 5G rod bends flexibly, but it's safe because the butt is still there, and it lifts the fish properly. That's what the blank looks like. It's thin, so users are worried at first, but it's okay.It's strong and gives you a sense of security even when it's bent firmly.By bending it firmly, you don't have to worry about it falling out.When you're fighting red sea bream It will absorb the thrust properly." (Kawakami)
Unfortunately, it was Renkodai that went up. Because it was a good size, it showed a pull like a red sea bream.
Furthermore, Mr. Kawakami made an additional hit. The tackle remains the same. And the next thing that came up was red sea bream. About 30 minutes after the start, I caught my favorite.
Next to Mr. Kawakami, who is explaining the tackle in the video shooting, this time it hits Mr. Ibuki. The tie mule is Redback Kaenomi 160g orange gold, and the hook is a custom hook big sea bream.
"At a depth of 100m, the line came out diagonally with doTERRA sinking, and when the line came out about 120m, it landed on the bottom. After winding it about 10 times, it hit the bottom." (Ibuki)
When Mr. Kawakami and Mr. Ibuki are talking about such things, Momo-chan hits. It felt like rushing into time. However, this fish immediately let go of the Thai mule. I feel sorry for Momo. Drop it off immediately.
And when Mr. Kawakami and Mr. Ibuki were lined up to take a video, Momo again part-timed. I hooked it firmly this time. And all three of them were caught. It feels like the potential of the Genkai Sea. Momo-chan's Tyraba is Red Back Kaenomi 200g Orange Red Kanojo Dot Glow. Hari is a custom hooked sea bream.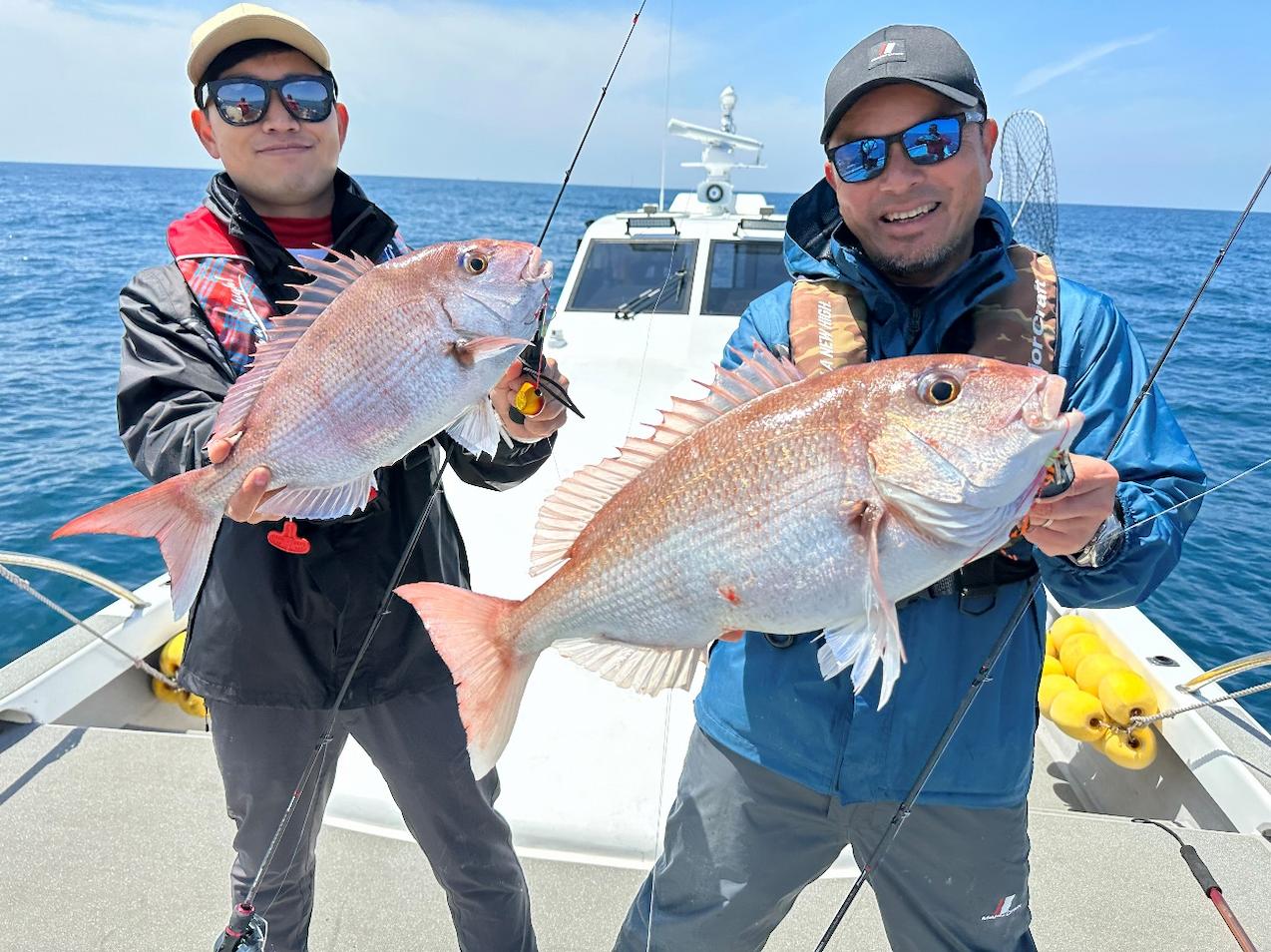 I want to examine the hook too!
By the way, all the fish were firmly hooked.
"The custom hooks of the Redback series use fluorine-coated hooks made in Japan. When they come in contact with fish meat, they quickly stick in." (Kawakami)
Hooking out is frustrating when it's quiet. Also, when I say big sea bream, I don't want to say that it was pulled out during the fight due to the sweetness of the firmness. That's why the choice of firmness is so important. If you have good tension, you can make one chance better. Redback has a wide variety of custom hooks, including small hooks, standard hooks, large sea bream, short hooks, mackerel skin sabiki, and triple hooks. It is possible to select according to the size of the field and red sea bream. In addition, major craft ties have items with different degrees of appeal, such as single curly, straight & curly, slim curly, and strong wave curly. Choosing a tie while thinking about this and that, looking for a pattern is also a fun part of Tyraba.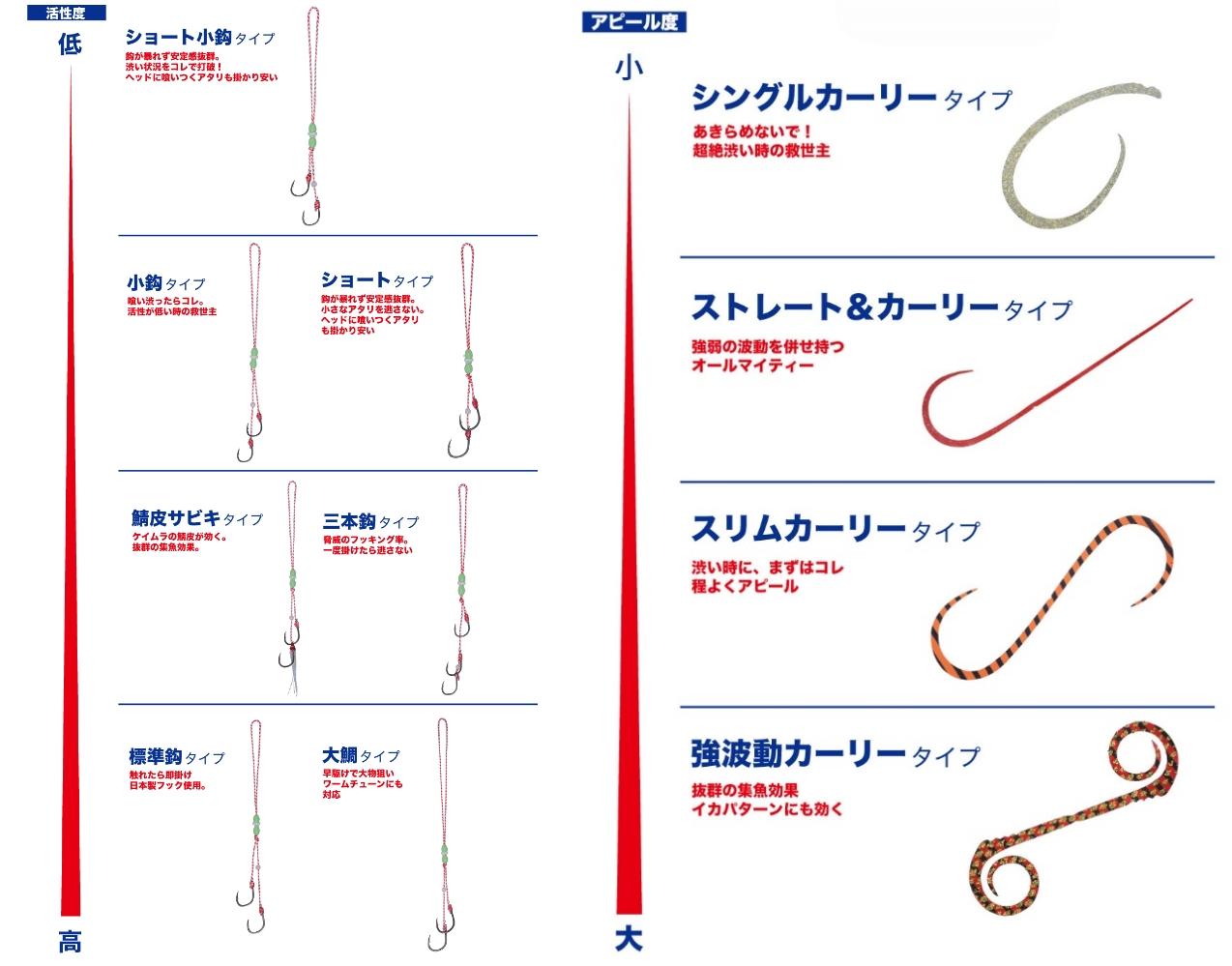 redback custom hook
Click here for product information
redback custom tie
Click here for product information
After that, the members continued to catch red sea bream in the 40-50cm range. And in the final stage, Momo-chan, Ibuki-san, and the support angler Mob-san, who was resting due to seasickness in the first half, hit in a row. be on time again
It feels like And during everyone's fight, Mr. Kawakami also hit it late. Everyone caught the red sea bream and it ended. Anyway, it was a fishing line that caught red sea bream. At the same time, it was a fishing trip to reconfirm the power of 200g and 250g Kaenomi, the difficulty of finding out the Redback 5G, the sense of security and sensitivity during the fight. A major craft item with solid performance at an affordable price range. By all means, please try the various items that appeared in the article in the Genkai Sea and other fields.
Click here to purchase the items introduced this time!
Photos and text: Angler's Time editorial department
Cooperation: Major Craft