Equipped with high rigidity and smooth drag performance!
Suitable for light game such as bluefish and root fish! PENN SLAMMER IV is now available in the No. 3500 model!
In recent years, salt lure fishing has become increasingly popular for light game. Therefore, the smallest model, No. 3500, has been added to the existing lineup of 8 models from No. 4500 to No. 10500. This model is also useful for light offshore and shore games in coastal waters.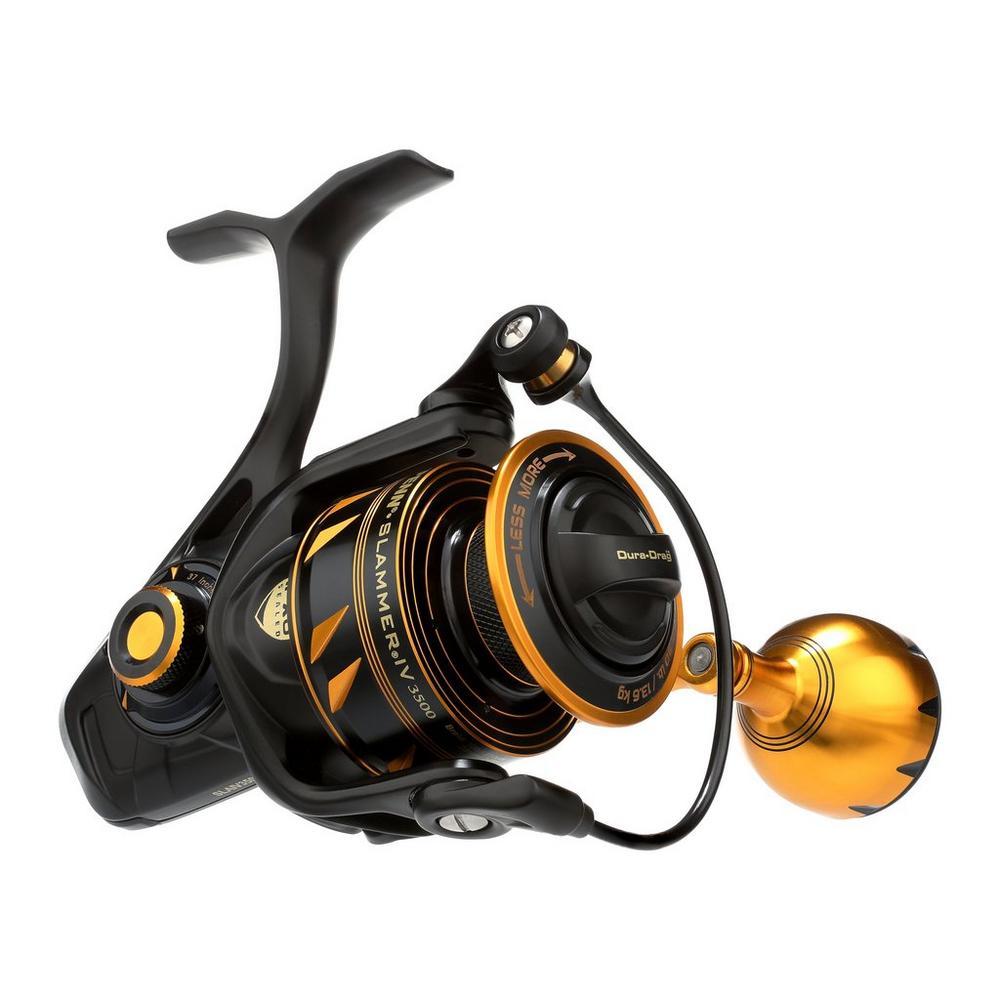 The smallest model in the series is easy to use
In the recent fishing scene, the evolution of tackle has led to the use of light tackle. At the same time, new light games have emerged, allowing anglers to enjoy a wider range of fishing. The PENN SLAMMER IV 3500 model is being released in response to this fishing scene. This model was created with sufficient line capacity for light game fishing, while maintaining the good performance of the PENN SLAMMER IV 4500 and larger models already on the market, and considering ease of use in light game fishing.
There are various elements required for a spinning reel, but in light game fishing, a reel with rigidity that can handle a hit by a good-sized fish and drag performance that responds well to the fish, while also being the right size for that type of fishing, is easier to use in terms of balance with a rod. This is why this model, the smallest model in the series, was introduced. Of course, even the smallest model does not compromise on performance, but inherits the "high rigidity" and "smooth and stable drag performance" of the "SLAMMER IV series".
Performance of SLAMMER Ⅳ for Salt Game
So, what is its performance? Penn Reel spinning reels are known as robust reels. The SLAMMER Ⅳ series was born in 2022 from Penn Reels as a robust and durable reel for offshore big game fishing. The body and spool are equipped with the IPX6 code, which indicates the waterproof grade specified by international standards. IPX6 is a level where water is sprayed strongly from all directions without failure, and can withstand 100 liters of water per minute from 2.5 to 3 meters away. The drags have a new design, with bearings added for smoother operation and a "shielded slammer drag" with a large diameter washer DuraDrag. The waterproofed drag maintains stable drag force. In addition, water-repellent line roller bearings are employed to drastically reduce salt gouging phenomenon. The lightweight rotor reduces the moment of inertia by 10% and improves the lightness of the winding feel. The performance of the SLAMMER IV is also inherited in the size 3500 to be released. This reel is designed to be easy to use for light game fishing in saltwater.
Optimal size for inshore waters
So what size is the 3500 number? It is difficult to tell from the number alone, as reel size numbers vary from manufacturer to manufacturer. So we checked the spec sheet and found that the line capacity is 200 m with No. 2 PE line, 400 m with No. 1 line, and about 300 m with No. 1.5 line. With this line capacity, it would be useful for super light jigging with No. 1 line, casting and light jigging for dolphinfish and small bonito with No. 1.5 line, and casting and light jigging for yellowtail and bluefish with No. 2 line. Incidentally, the gear ratio is 6.2, and one rotation of the handle reels in 94 cm. The attractive price of 28,000 yen (excluding tax) is also one of the attractions of this product.

Product information page
https://www.purefishing.jp/product/penn/slammer-iv.html

Summary: Angler's Time Editorial Department