In 2023, the yellowfin tuna season begins!
Sano Hiromu style Yellowfin tuna capture off the coast of Mie and Owase "Tackle Edition"
Mr. Hiromu Sano (honorifics omitted below) who keeps chasing large fish such as tuna and amberjack. In the fishing schedule for these large fish, I regularly visit Mie Prefecture from spring to autumn to challenge large yellowfin tuna. This is to break the yellowfin's own record. So, this time, I tried to summarize what kind of tools Hiromu Sano prepares when he actually targets yellowfin tuna off the coast of Owase. The 2023 yellowfin tuna casting season will also start in earnest. Please use it as a reference for your fishing trip preparations.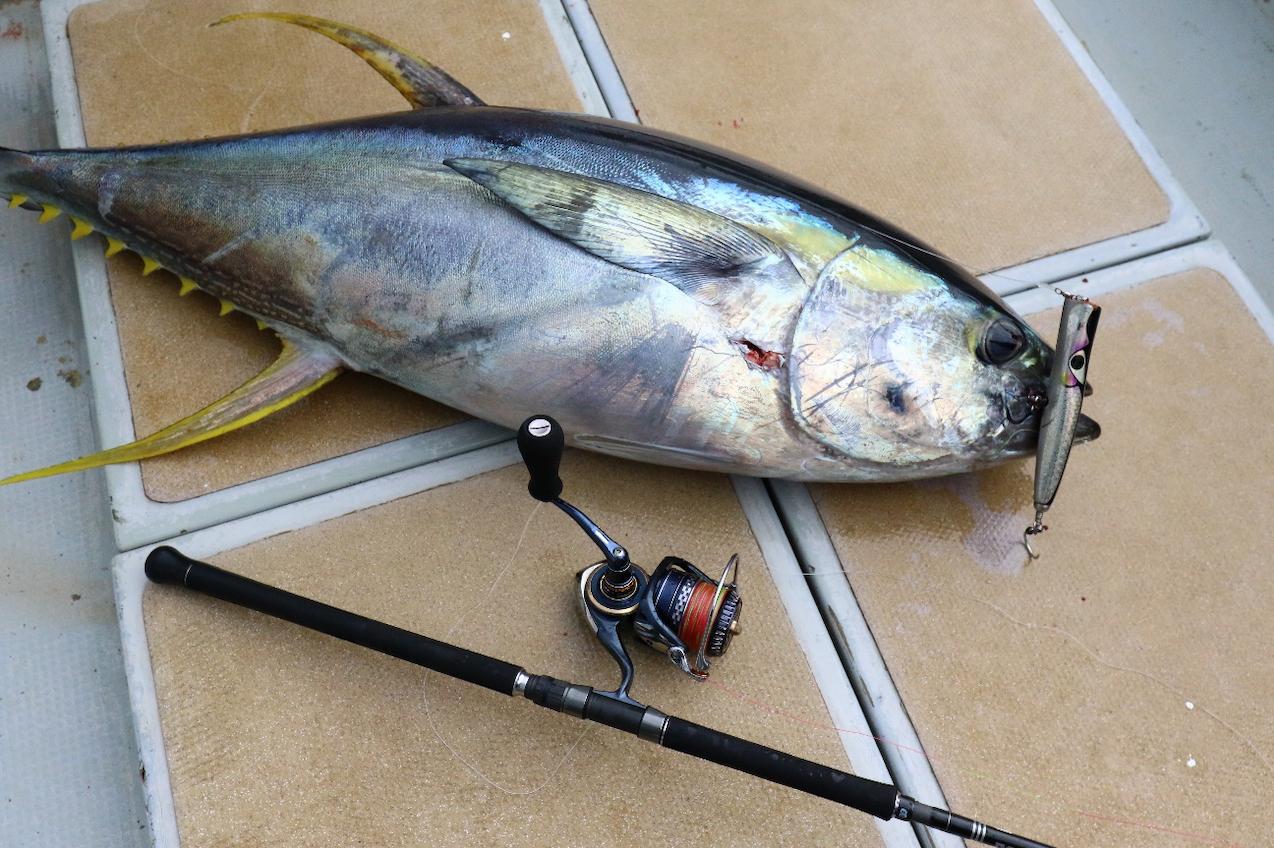 Importance of preparation to lead to fishing results
In recent years, the waters off the coast of Mie and Wakayama have a high possibility of encountering large yellowfin tuna. Last year, I accompanied Hiromu Sano on several fishing trips targeting yellowfin tuna off the coast of Owase, Mie Prefecture. And I reported on the fishing trip in November last year as an article in January 2023. In this fishing trip, I caught 54kg by casting on the first day and 55kg by jigging on the second day. Mr. Sano himself said, "I could do it too much!"
If you look at the yellowfin tuna off Mie Prefecture and off Wakayama Prefecture on social media during the season, you will have the illusion that you are catching them almost every day. However, depending on the day, there are many days when you can't meet yellowfin tuna, or even if you do, you won't eat it, and there are few chances. If you go, it's not like you're bouncing around. In such a chance time, how to hang it and connect it to a catch for sure. In order to do so, it is necessary to carefully watch the movement of yellowfin tuna, grasp the direction in which it swims, and lure the lure firmly to the water. And that a fully prepared tackle is essential. It goes without saying that the larger the fish, the more important the tackle selection becomes. So, this time, I interviewed Mr. Sano about the tools he uses and summarized them. Please use it as a reference.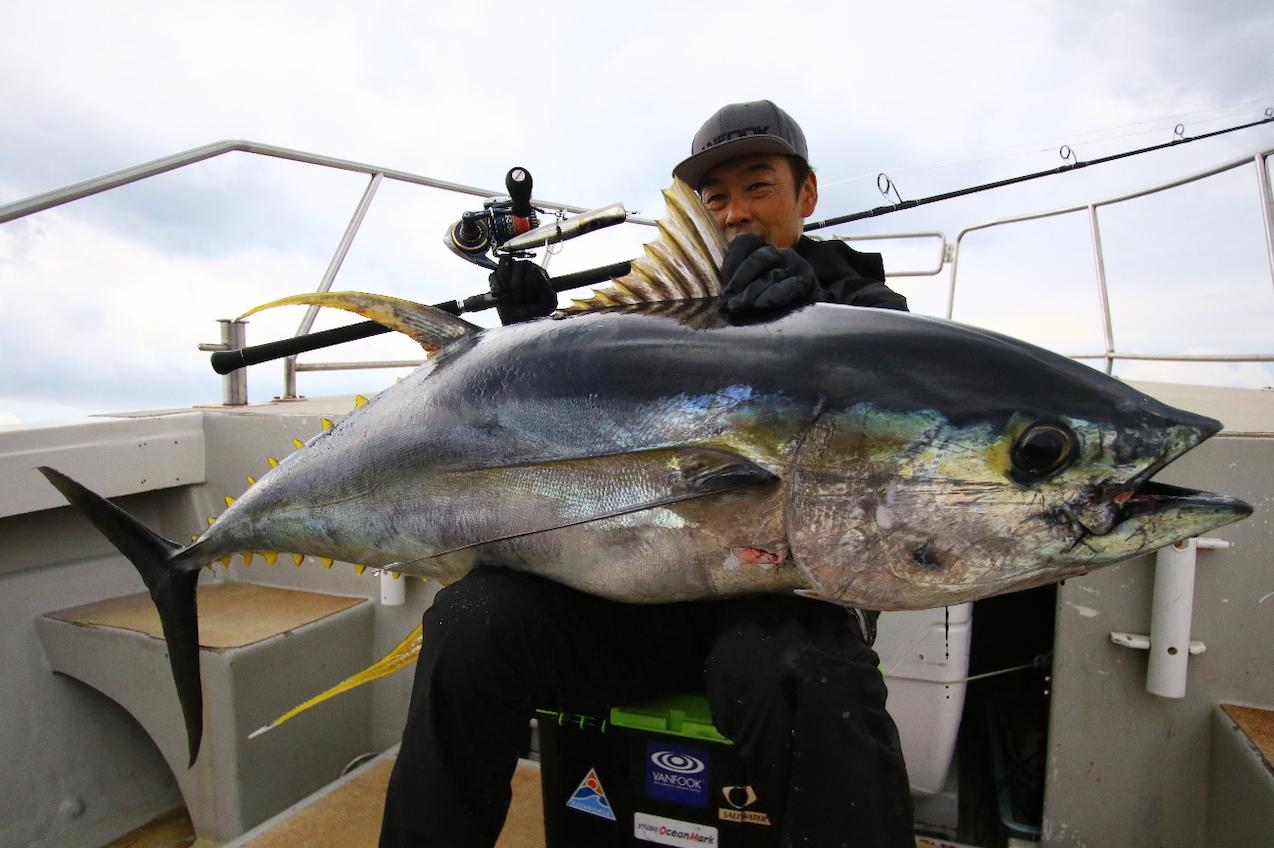 Tackle select considering large size
Mr. Sano visits Mie from April to around November, especially for large ones.
"The tackle changes depending on the bait that is being eaten at that time, but the yellowfin tuna in this area is large in size, so PE6, 7, and 8 are the main tackles, and an extra large size of over 70 kg is also recommended. I also use the PE 10 tackle when I'm preying on small baits, and when I'm aiming for smaller top water plugs than usual, or sinking pencils such as CBONE's Ozma, I use smaller lures. Even if you reduce the tackle power to increase the distance, PE 5. In Sagami Bay, etc., PE 3 and 4 are sometimes used, but in Mie, the average size of yellowfin tuna is large, so the minimum size is PE 5.5. In that case, if I don't fight aggressively, I've caught 40, 50 kg.
plug to use. Poppers are hot these days!
The basic lure is a top water plug, and it is an appealing pencil with a sharp action.
"I often use CBONE models such as Ryan, Rodeo, and Zoro. We prepare sizes from 130 to 250 mm to match the situation of predatory bait and the activity of yellowfin tuna. I will use both
In addition, it is said that there are many catches with poppers in recent years.
"We have selected CBONE Dixon, which has a small caliber and invites quick movement while wearing foam, and appeals with wobbling like a minnow, and BAZOO and BAZOO SLIM, which have been used by many anglers and have produced results. You can use popping and staying to make bubbles and hide the lure in the bubbles, or move it with a straight retrieve.I also bring a wide range of popper types from 160 to 260mm, and use them according to the size of the bait and the activity of yellowfin tuna."
Ryan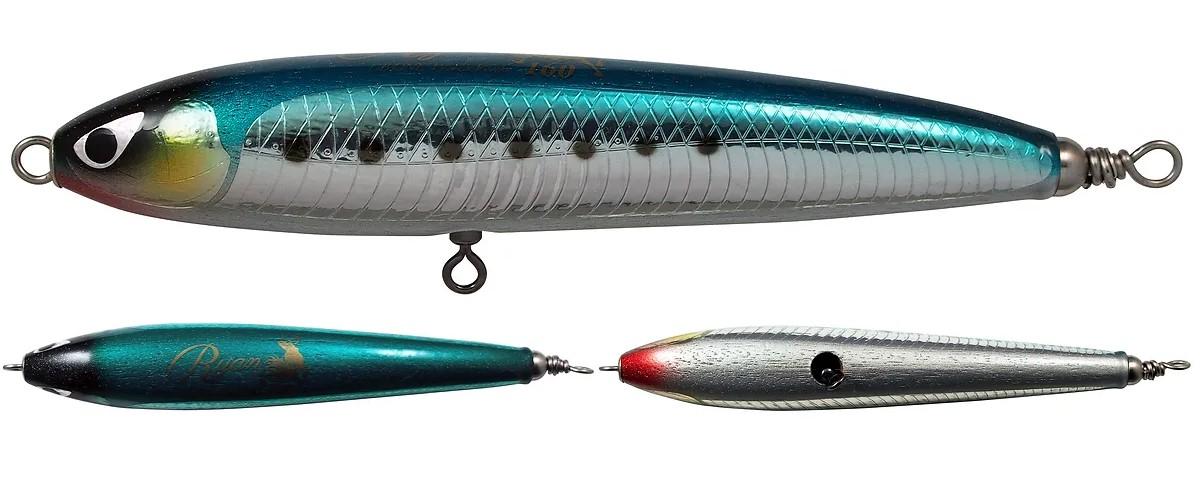 Rodeo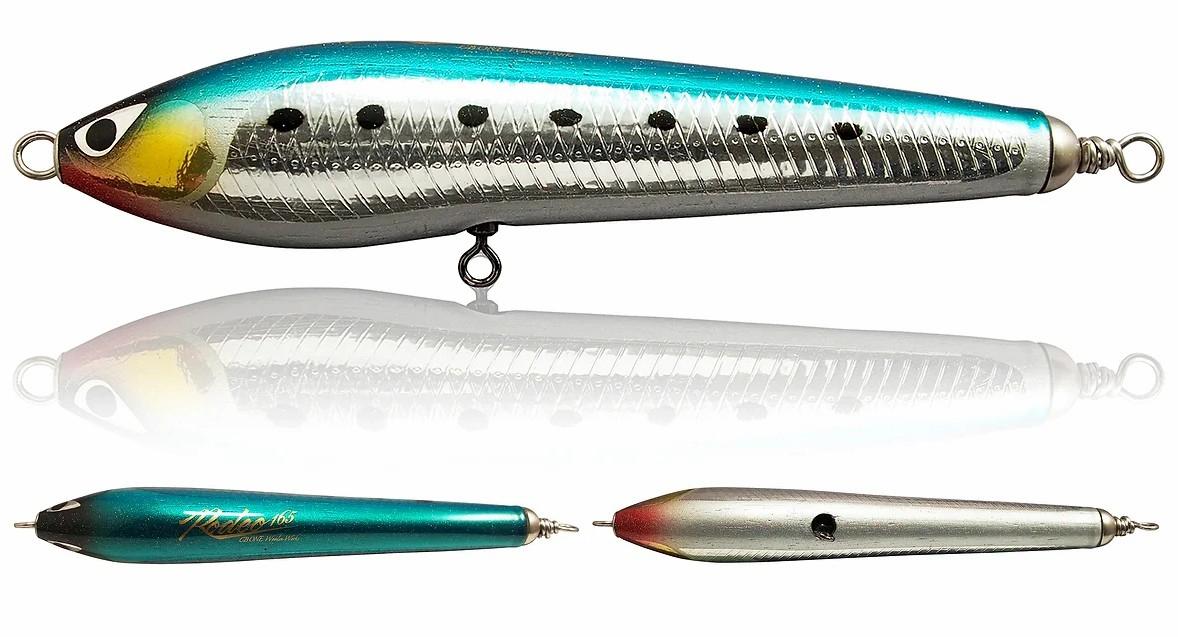 Zoro

Bazoo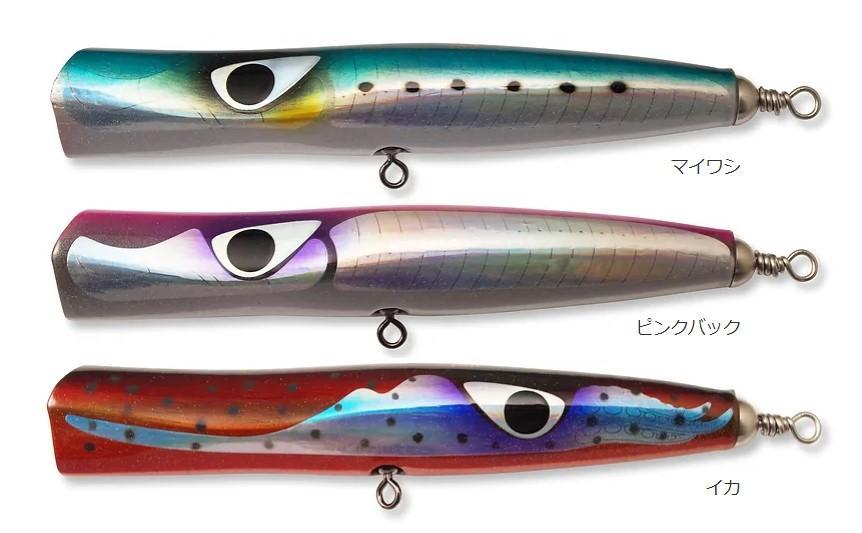 Dixon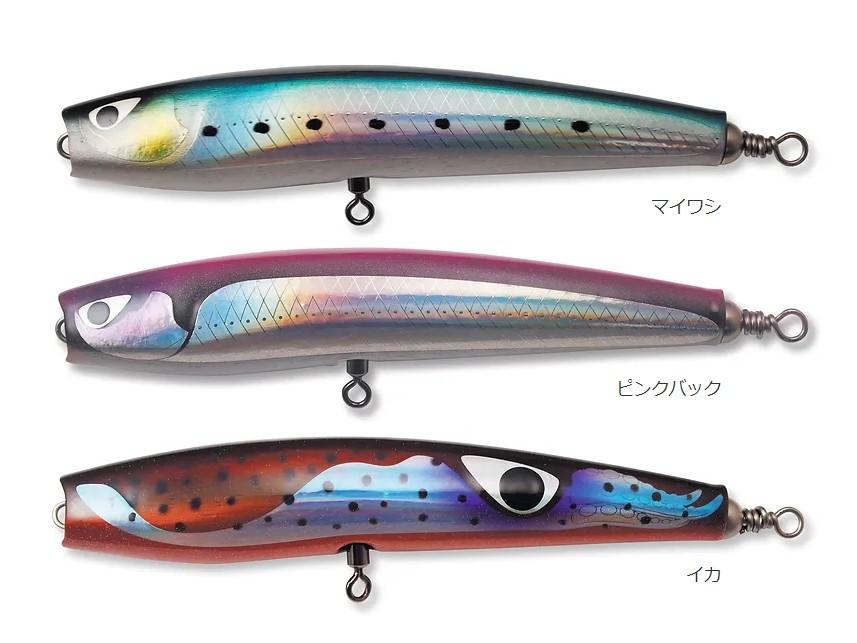 About attached hooks
"As for the hook attached to the plug, in my case, rather than attacking quickly and having the lure chase from behind and bite the lure, I move the lure with a slow or medium slow motion, show it firmly to the yellowfin tuna, and turn on the switch. , I'm good at biting around the belly, so I put two short assist type hooks on the belly eye.These hooks have a narrow range of motion if the assist line is short, so select a slightly longer one. However, if the length is too long, the back of the lure will be caught by the hook eye, so use a length that does not get caught."
By the way, the hook on the tail is said to be one short assist because it has a degree of freedom. If the tail is too long, it will suppress the original action of the lure.
"By using only one tail, the tail side becomes lighter, and when the posture of the plug collapses, the lure's natural movement will not come out, so in such a case, attach a sinker to the split ring where the hook is attached. to adjust."
By the way, the hooks used are Van Hook's Beast Edge BG86 series and Studio Ocean Mark's Ocean Twin. The sinking plug is a Van Hook bolt lock.
favorite rod. Prepared for each line used
Sano loves CBONE's Infinity for yellowfin casting.
"The main model for offshore Mie is 83/12 and 83/14. Set PE6, 7, and 8 reels on this. When there is a monster class, PE8 on 80/16, I use a set with a No. 10 reel.In addition, when casting a small bait with a small top water plug or sinking plug, models such as 90/12 and 84/10 are used, and PE 5 and 6 are used. I will use
The Anfinity series is strong, but when it bends during a fight, it's easier to fight because the bending part is closer to you. In addition, it bends firmly when casting and has a good balance when the bend returns, so it is easy to increase the flight distance. Furthermore, since it is designed not to flip more than necessary during action, it is also characterized by being able to operate the lure firmly.
ENFINITY

Saltiga reel is the best choice.
Upgrade with custom parts
For the reel, Daiwa 20 Saltiga No. 18000 is selected for the No. 8 class. In the 6th and 7th classes, 14000 is also used, but 18000 is often used. "The reason for this is that it can be reeled in faster. When a yellowfin tuna bites towards us, we reel it in quickly and put it in. When there is no bite, we quickly retrieve it and make the next cast. 20 Saltiga" There is no damage or trouble even if the fight lasts for a long time, and the body and gears are highly durable, so the winding is comfortable and powerful winding is possible. , I have used it without sending it to the manufacturer for maintenance, but there is no rattling. It's a tough reel."
In addition, this 20 Saltiga is equipped with Studio Ocean Mark's custom spool NO LIMITS 20ST23000BM, 18000HP, 17000RC, 16000HP.
"It is a model that can increase flight distance, has high heat dissipation and exhaust heat control performance during fights, and has high drag performance."
In addition, the handle is also equipped with a big mouth handle 20ST20000/18000 BM95, BM70 made by Studio Ocean Mark. The EVA knob is non-slip and its unique shape makes it easy to apply force. In addition, this unique shape can be gripped with the right hand and the reverse hand, so muscle fatigue during the fight can be dispersed. Furthermore, when you hold it after casting, it is also characterized by being able to grab it without mistakes.
"When you hit, it's easy to make the first turn, so it's a knob that allows you to hook firmly."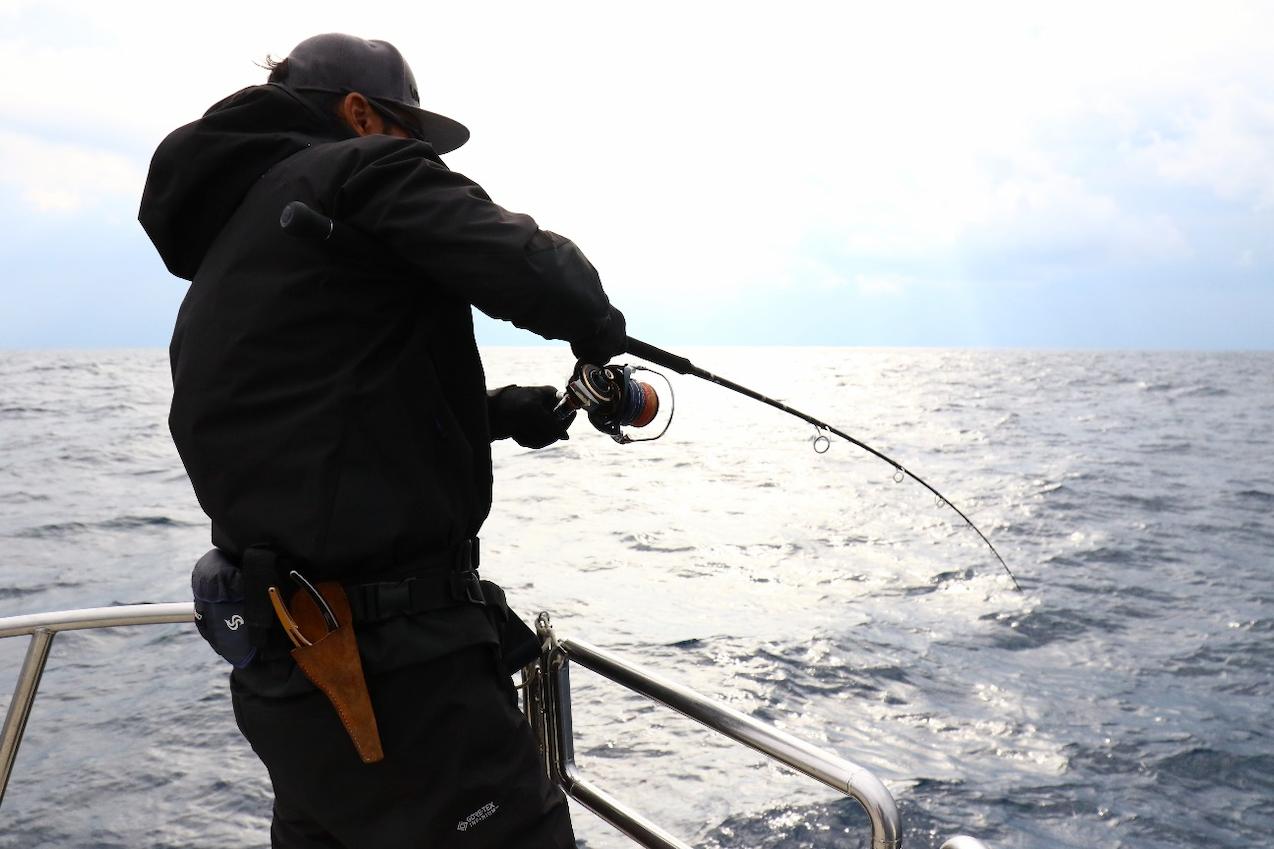 daiwa 20 saltiga
For more information
Studio Ocean Mark NO LIMITS 20ST Custom Spool
For more information
Studio Ocean Mark NO LIMITS 20ST Custom Handle
For more information
Use line and tie
The line uses the odds port of XBRAID.
"Oddsport has fine variations such as No. 6, No. 7, No. 8, and No. 9, and one plus is included in eight twists, so it is strong and has moderate firmness, so air knots when casting are easy to use. It's a small line
By the way, the leader is tied with an FG knot using the Ocean Knotter from Studio Ocean Mark. The number of knitting is 16 to 18 times for PE5 and 6, and 20 times for PE7 and above.
"In addition, the PE line above the leader is equipped with a protective leader system using XBRAID's Scrum 16. This eliminates the need to put your fingers directly on the PE line when casting, and You can get rid of fluff. The unity of the lure is Lanot. It is a strong knot that can be used to securely bind a thin leader to a 200lb leader."
Scrum 16 protected leader system
Consider the jigging approach and prepare
In situations where it is difficult for yellowfin tuna to reach the top water, we also approach jigging. In fact, on the second day of the interview last year, although the birds were circling, there were no yellowfin tuna jumps. However, when I looked at the fish finder, I could see the reaction in deep places, so when I attacked with jigging, I brought it into a splendid hit.
The tackle that Sano prepares when jigging yellowfin tuna is a rod called CBONE's BRAVE (prototype at the time of the interview last year). It is a model that is a little longer than the 65 normal jigging rod. "With this rod, I will jerk the jig big, fly the jig, and lure you with slow jigging that bites on the backslide foul. Since the hook bites on the backslide fall, one assist hook is attached on the tail side. The hook I use is a Vanhook Gigen Grippy.It's a reliable hook."
As for the lines, PE No. 5, 6, and 7 are used because the size of yellowfin tuna is large. Leaders are said to be tied up with PR knots and FG knot braiding methods.
Vanhook Jigen Grippy
"The reason why the length of the rod is a little longer is that in addition to being able to move a lot when you jerk, it is easy to interact with the hit yellowfin tuna when it is brought close to the ship's side. The length of the rod is set so that the propeller of the ship's bottom and propeller can be avoided by operating the rod when the boat is spinning on a slippery surface." The rod is expected to go on sale in 2023.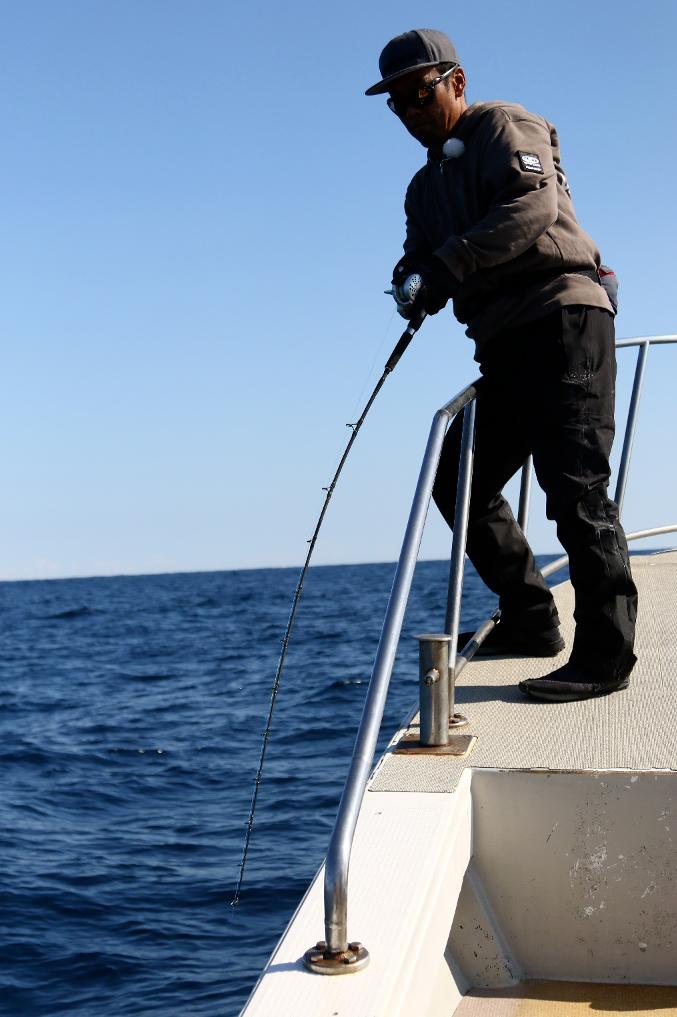 Mr. Sano, who has already started this year's Owase yellowfin tuna challenge. I expect to catch many yellowfin tuna this year as well. Sano's record challenge continues. Anglers who are starting yellowfin tuna in this area should use it as a reference for choosing a tackle, and be prepared to take on the challenge.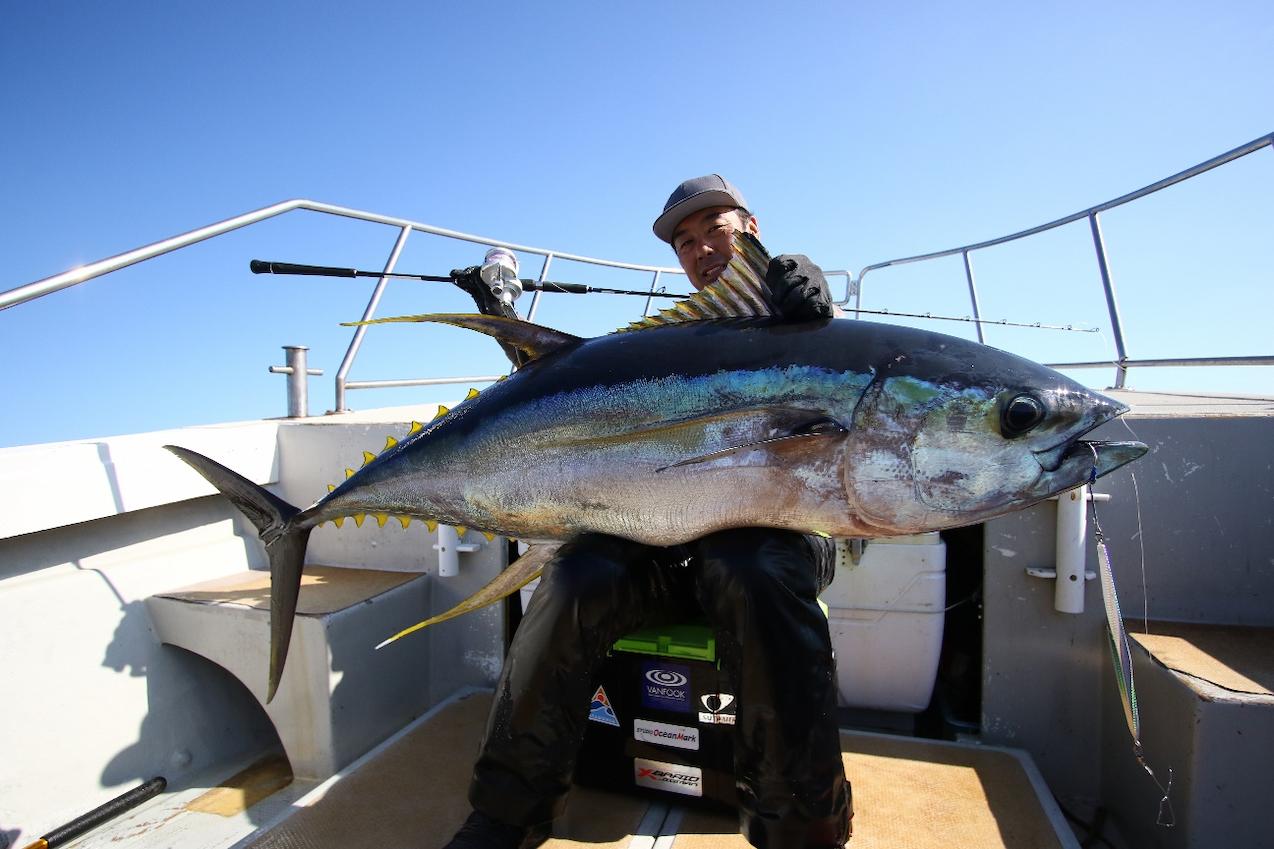 Photos and text: Angler's Time editorial department

Interview cooperation: Vanfook
https://vanfook.co.jp/
Recreational fishing boat: Deep Blue
https://owase-deepblue.com/