Evolved to be able to jerk more nimbly!
Effective for vertical jigging with heavy-weight jigs! Drag Force bait model now on sale!
In the spring of 2023, the Jig Zam Drag Force, a popular series among TENRYU jigging rods, was renewed. Based on the concept of designing for each style of jigging, four spinning models were released in the spring, and two bait models were added this summer. Which model best matches which style of jigging?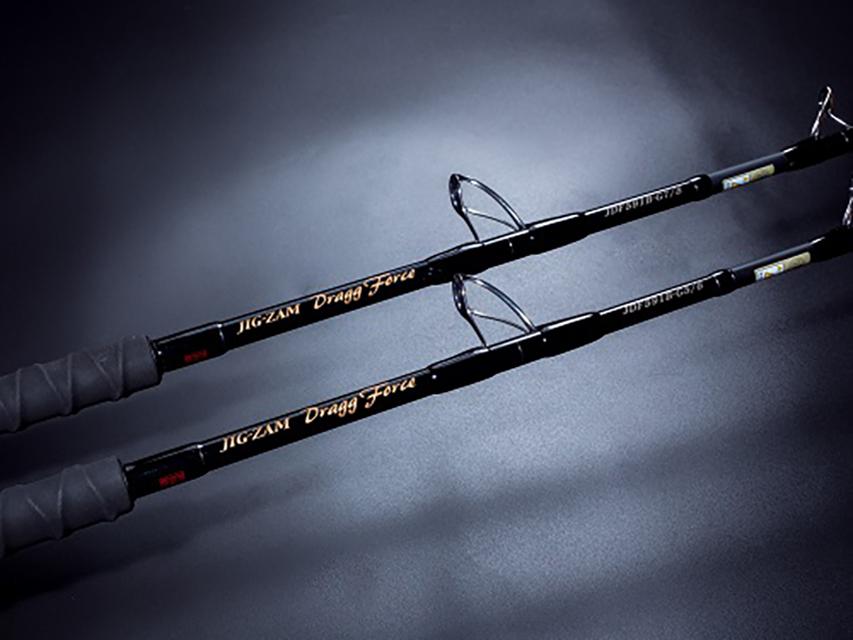 Bait models released based on the Drag Force concept
The Jig-Zam Drag Force, Tenryu's jigging rod adapted to inshore waters for sunfish, kampachi, yellowtail, and large migratory fish, was redesigned this spring. The concept of this rod is to examine each element such as sensitivity, operability, and power, and to build it with the latest technology in order to respond to the strategies that exist in each field and target. As the first step, four spinning models were released in the spring of 2023, which can be used to cast a jig underhand and jerk horizontally to search widely, as well as for combination jerking and swimming jerking. And furthermore, two bait models were introduced this summer. What kind of performance do they offer?

JDF591B-G5/6

JDH591B-G7/8
Sticky glass material allows anglers to use heavy-weight jigs in deep water!
First of all, the two models released this time are both based on glass material; the previous Drag Force bait model released in 2015 also had glass material-based blanks and Tenryu's proprietary technology, "C-N-T ( This model was highly praised by many anglers for its tenacity and performance for jigging with heavy weights. The new model is a further evolution of this model. The new model is said to have been thoroughly developed to absorb the drag resistance of jigs so that it can be used more nimbly in situations where heavy jigs are used in fields with fast currents.
Incidentally, the most effective use of this model is for targeting bluefish in fast-tide fields such as straits. In the straits, baits are swept away by the current, and fish-eaters migrate to feed on them. The pattern of yellowtail and sardine baits being swept in off Akashi is a typical example of this. In such a field, it is necessary to drop a heavy jig that is not swept away by the tide as vertically as possible to explore. In addition, depending on the point, it is necessary to power fight after a hit to clear the river. The lure was designed to allow for light jerking and fighting in such fields. This tenacious and easy-to-maneuver performance with heavy jigs is also useful for tonjigging and yellowfin jigging, where you have to keep jerking at a certain layer in deep water.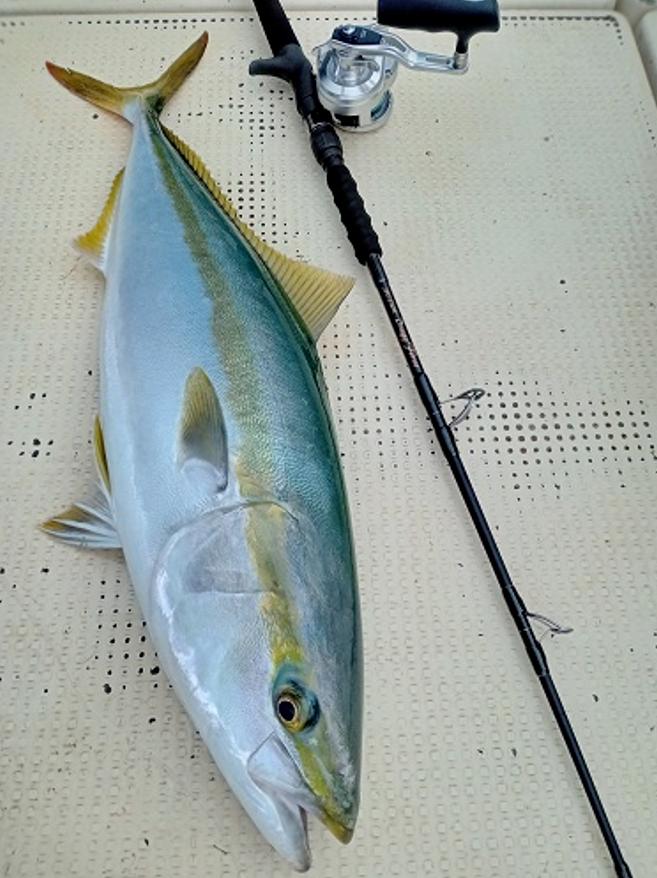 Features and specifications of each model
JDF591B-G5/6
Specialized for vertical jigging in swift currents, designed to handle jig weights from 150 to 300g, and to easily jerk at slow to medium tempo with one-pitch action. The No. 5 class tip enhances the feeling of landing the fish on the bottom. Also compatible with electric reels.
JDF591B-G7/8
Effective for vertical jigging in strong current and strong current, with 250~400g heavy jig weight, and one pitch jerking at slow to medium tempo. The No. 7 class tip firmly grasps the bottom and the No. 8 class butt power suppresses the fish's movement when it hits the water. Also suitable for jigging with an electric reel.
As mentioned above, the two models released this time have similar blank performance, although the compatible jigs and lines are different. However, the development staff explains that "there is a certain individuality that is difficult to convey just by specs description. When selecting a jig, the most important criterion is the speed of the tide. If the jig weight is 300g, the [JDF591B-G5/6] is the one to use. If the tide is faster and the jig weight is 350-400g, the [JDF591B-G7/8] is the best choice. The choice depends on the speed of the tide and the weight of the jig. If the tide speed changes, it is best to have both models available.
The new model has also been modified in some details from the previous model. The number of foot-high type bad guides has been increased, and they are designed so that the line does not touch the blank even in situations where the glass material has a characteristic large bend. In addition, the front grip has an assist grip to hold it firmly during power fights, and the rear grip has been extended by one inch so that it can be tucked firmly under the arm during long fights to further reduce the burden.
The concept of this rod makes it seem like a maniac rod, but in the reporter's opinion, it is a rod that can be used in a wide range of situations, from expeditions to inshore fishing. It can be used not only for fishing in rapids, rapids, and deep water, but also for fishing with heavyweight jigs, exploring at a high tempo, and fishing with large baits. I would definitely like to try it in the fields near me and in expedition fields.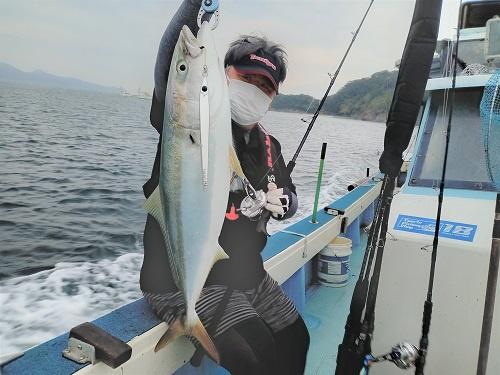 Summary: Angler's Time Editorial Department
Cooperation: Tenryu https://fishing.tenryu-magna.com/